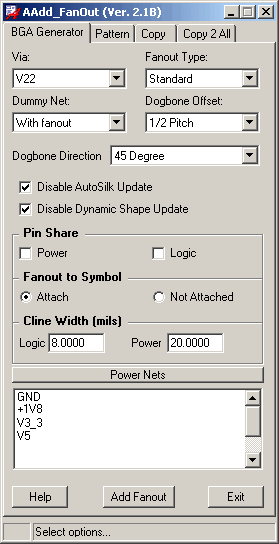 AAdd Fanout
Automatically generates fanout patterns for
BGA's, loads fanout patterns for DIL's and
QFP's from a library, or can copy fanouts from
device to device or individually pin to pin,
even with multi-layer blind and buried fanout
patterns.

• Load Fanouts from the Library, saving
time.

• Don't re-invent the wheel!, share fanout
patterns with co-workers.

• Quickly determine the best fanout
strategy, try multiple patterns quickly.

• Move fanouts with the device, making
final placement faster and easier.

• Create new fanout patterns using the pin
copy command.

• Copy complex multi layer blind and buried
fanouts from pin to pin.

• Works in both metric and imperial units of
measure.

• Starter library has over 300 hundred
metric and imperial fanout patterns.