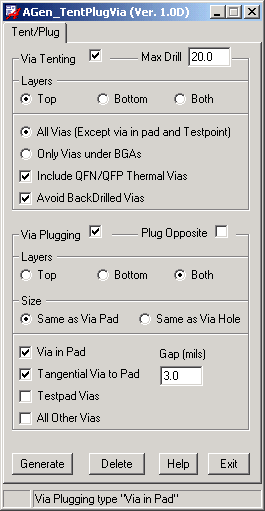 AGen TentPlugVia
Automatically creates Via Tenting and / or
Via Plugging layers by via type, via location,
and by layer.

• Create tenting and plugging layers at the
end of design process, after all routing
and placement decisions are complete.

• Tent all vias or just the ones under the
BGA's automatically.

• Plug via in pad, and / or Tangential vias,
&nbsp and / or testpad vias, and /or all vias.

• Tent QFN/QFP thermal vias without
updating the symbol.

• Use the "Plug Opposite" option for low
cost plugging manufacturing processes.

• User definable Tangential via gap.

• Create plugging pads same size as the via
pad or via drill.

• Works in both metric and imperial units
of measure.